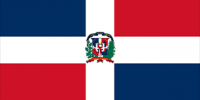 Are you shipping from USA to Dominican Republic?
We guarantee the best rates for shipments from United States to Dominican Republic.

Find out by making a FREE Rate Request. Our company provides shipment of 20', 40', 40HC containers (Full Container LOAD) and other kinds of cargos from the United States to the following locations in Dominican Republic: Bavaro, Boca Chica, Bonao, Caucedo, La Romana, La Vega, Mao, Moca, Puerto Plata, Punta Cana, Rio Haina, San Cristobal, San Juan, Santiago, Santo Domingo and more!
Make a Rate Request to Dominican Republic, Call + 1 (773) 920-1140 or Email info@shiplanetransport.com

Dominican Republic on the map
More containers shipping routes in Dominican Republic: